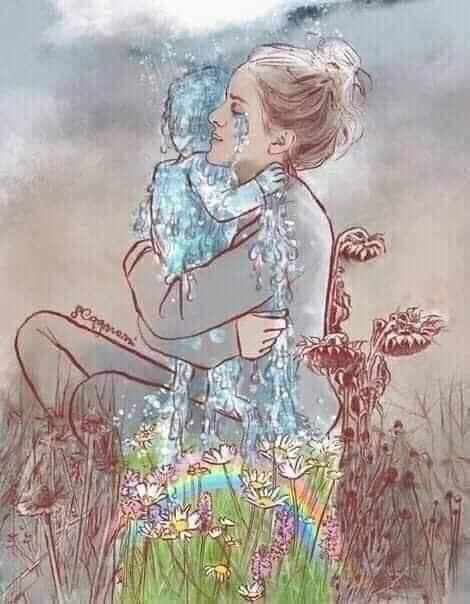 24 January 2022
With the start of the new year, and a very busy few months I thought it was time to give people another update. I am sorry that I have been quiet of late. I had big plans for the start of the new year. But I will be fully honest, the start of the new year has hit me hard. It has, in a nutshell, been a horrendous few weeks.
I think that a common thought for many is that Christmas is one of the hardest times for someone who has lost their child. For me, New Year was the toughest, and I always knew it would be. Those two innocent words 'New Year' have suddenly more meaning than I could ever imagined possible.
I wanted 2021 to remain frozen in time, just as my little boy was.
Christmas is a set-time period, the build-up was monumentally tough, but I kept myself phenomenally busy; I had plans to carry out on behalf of Sam and his charity Sam's Superheroes. I was concentrating on building up Sam's Superheroes Dog Therapy, our stall at Mickleover Christmas Festival, decorating his bench with lights near our home, and of course organising Sam's Christmas Concert. On top of that I was busy buying and wrapping 92 Christmas Gifts for Derby In Need, and I was also helping them deliver meals on Christmas Day.
Let me, if I may, just take you back a full 12-months. I was quite relieved to say goodbye to 2020, as I am sure a lot of us were. It was not only the year when COVID came into our lives, but also when Sam and I moved into our brand-new home. I was content, I was making the best of our change in circumstances. Dare I say it, I was happy with our little lot in life, even though it was not how I had originally envisage it. It was just me and Sam, with Daisy (Sam's dog) and Mr Smudge (Sam's cat). As long as I had Sam that was perfection in my eyes. So Sam and I moved from 2020 into 2021 blissfully unaware of the horrors that were going to be thrown our way. Had I known what was going to happen, then I wouldn't have happily waved goodbye to 2020, I would have clung on to it with my bare nails not wanting to let go.
The day I lost Sam, I lost a part of me. I am changed forever.
So we move forward 12 months to the end of 2021. It turned out to be the year that is even to awful for horror films to show, the year my son died. But strangely enough, I didn't want to say goodbye to 2021, despite all the horror that had unfolded. I wanted 2021 to remain frozen in time, just as my little boy was. I didn't want to feel that time was moving on without my son in it. The thought of leaving my son behind in 2021 breaks my heart into even more tiny little pieces. I wanted to scream and stop time from moving. I didn't want to have to say my son died last year. Tick tock, tick tock, time is just ticking onwards, and time is getting further and further away from when I last heard Sam say "mummy". It utterly terrifies me to realise that it will soon be 12 months since I last heard my son speak? Why would I want to enter a new year that doesn't include my boy standing beside his mummy holding her hand? This new year, and no doubt all the rest to follow, is another big fat reminder that time stops for no one, not even for the death of my beautiful beloved boy.
And so, into 2022 the world went. For me, 2022 was a wholly uninvited guest. New Year is normally a time of hope, a fresh start. People look forward to the year ahead, a year full of promise, full of moving on, full of excitement, full of holidays, full of laughter, full of fun and a whole year of watching your children grow, learn and develop. Where is my son in all this?
I need to remind myself of my current blessings. And yes, I do still have them.
Life you absolutely SUCK, how on earth is a grieving mother meant to cope at New Year without her child? New Year just opens up this vast expanse of time that somehow you are meant to get through without your child by your side. Seeing his friends having birthday parties that he won't be receiving an invite for, his friends getting another year older, with Sam remaining 'forever' five. Right now I feel more pain at the loss of Sam than I have ever felt, even right before and after he died. Back then my brain's automatic protection mechanism had kicked in. It had, and probably thankfully so, numbed me. It clearly knew that I wouldn't survive without the numbness. But now, there is little numbness left just the stark reality that Sam is not living and breathing and somehow, yes somehow, I have to wade my way through life without Sam by my side. I truly don't know how I can ever feel proper joy again.
The words 'last year' describe a point in time, and never have those words evoked more pain and emotion. 'Last year' now means,
when I last saw my beautiful Sam,

when I last felt his breath on me,

when I last brushed his teeth,

when I last gave him a bath,

when I last gave him a kiss goodnight,

when I last heard him say mummy in real life,

when I last felt his hand in my mine,

when I last walked him to school,

when I last saw his beautiful angelic face,

when I last felt his arms around me cuddling me tight,

when he last gave me a note with 'I love you mummy' in,

when I last tucked him up in bed at night,

when I last heard his footsteps in the middle of the night tip toeing across the landing making his way to my bed so he could get in for a cuddle and drift off to sleep,

when I last saw him riding his bike,

when I last saw him and his friends play together,

when I last saw him in his car seat in the back of my car,

when I last saw him building his train track,

when I last saw him sitting at his new play table building Lego,

when I received my last mother's day card,

when I celebrated Sam's last birthday and baked his last birthday cake,

when we last sang our goodnight song together,

when I last saw him being a super hero and fighting for his life for 7 weeks,

when I agreed to the heart breaking decision to remove his breathing support,

when I saw him take his last breath.
But very importantly, I need to remind myself of my current blessings. And yes, I do still have them. I can still feel Sam's love around me. I am still Sam's mummy, and I always will be, I am just carrying it out slightly differently that's all. I am making sure his energy continues in the world around us (thank you Dawn for reminding me of that), I am sharing his story, I am talking about him, and I am spreading kindness in his name. My other blessings are that I still have a job, so I can pay my mortgage and continue to live in Sam's home and I have a great boss who has supported me going part-time and is giving me grace to get myself up to speed with work. I am thankful to have an amazing counsellor, family, friends, Sam's Superheroes supporters and local supportive community.
And I also need to remind myself of the many reasons I have to be thankful. I am first of all thankful that I was so very blessed to be chosen to be Sam's mummy. Sam made me a mummy and showed me what unconditional love was all about, he gave meaning to my life, he gave me so much joy, he made me laugh proper belly laugh, he showed me what love was all about, in essence he gave me more joy in five short years than I have ever experienced in my entire life. Sam I am so very thankful that God chose me to be your mummy, and I love you so very very much. Love is eternal, and I will love you for until the end of time. I am particularly thankful to all my wonderful family and friends, and even strangers who are still reaching out, and checking in on me. THANK YOU so much.
I am thankful to the many people who are making sure that Sam hasn't and will never be forgotten. From organising events to remember him and celebrate his life, to painting stones in Sam's name so they can be placed in different locations around the world, to writing Sam's name in the sand or snow, or using leaves and flowers. All this captured and shared within our little Facebook Community Love2Sam. We also have people crafting, and baking cakes all to raise funds for Sam's charity. I cannot begin to tell you what comfort I get from knowing people are doing this for my boy.
I am also thankful to the people who have not been too scared to talk to me, or send me a message about Sam. Please continue to do it, I will never get tired of it, it keeps me going. To those that haven't reached out as they are perhaps worried that I will get upset by hearing his name, as it may remind me that my son died. Please know that you will never upset me by talking about Sam, you won't remind me that my son died. I live with that every minute and every second of every day. I actually get upset when people don't mention his name, or talk about the huge impact he made on the world around him in his short five years on this earth. I utterly love hearing Sam's name, or hearing someone simply say 'I am thinking of him'! That text that says 'I saw this today and it reminded me of Sam', or 'I remember when we went here with Sam', or a message that simply says 'I am thinking about Sam'. Reading and receiving these messages and memories gives me so much joy. All I want is for my son not to be forgotten, it is all I live for.
"Please know that you will never upset me by talking about my dead son Sam. I get upset when people don't mention his name."
I am deeply thankful of all the support. From the hugs, to the quiet squeeze of my hand, the knowing look deep into my eyes, the texts, the cards, the little gifts, the emails, the comments or likes on social media, the support from local businesses and organisations, the mentorship I am receiving being new in the charity space, the bakers and crafters for our events, our event team, our trustee team, our Sam's Superheroes supporters both near and far, to those supporters who come to our events, who buy our cakes and crafts to raise funds, to all those who have donated their hard earned money to Sam's Superheroes, the amazing team at QMC Nottingham who are always there to support me, the parents and teachers at Silverhill Primary school, the wonderful team at the Orange Tree Day Nursery, Little Micklers Play Group, the team at Bridge the Gap Child Mental Health Derby, Mickleover Methodist Church, Redwood Primary school Derby, Nora Wong from the NORSE (New Onset Refractory Status Epilepticus) Institute in America etc. The list is just truly endless, but please know it all means absolutely everything to me.
If you ever ask yourself the question, "should I say something, should I do something, should I……" my advice is JUST DO IT. You will never know just how much it all means, the huge value of even the smallest act of kindness. A short text, a smile, a squeeze of the hand, a short note. As we say at Sam's Superheroes, the smallest act of kindness can change and save lives.
We are hopeful that in the next few weeks we will be able to confirm that we have got Registered Charity Status. We have our first Trustee Meeting on Friday evening 28 January so I look forward to sharing our plans for the year ahead and being able to share the impacts of our work so far.
Please keep supporting us. Help us spread kindness to keep HOPE alive.
Sending love and thanks for the year ahead.
Rachel,
Sam's mummy