Fundraising AFTERNOON TEA, Saturday 6 Nov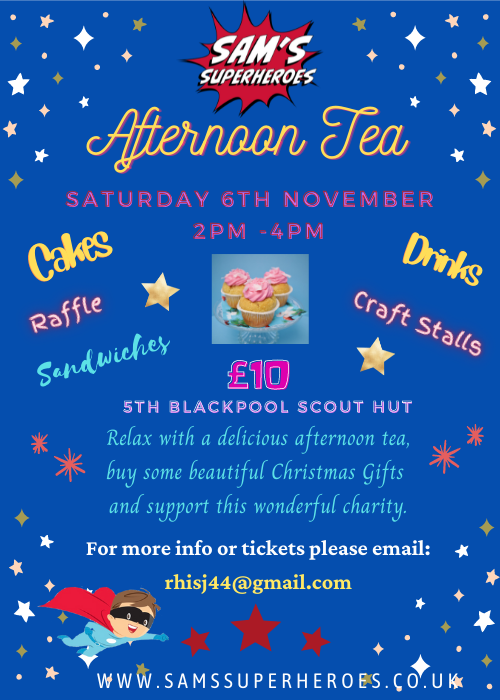 19 October 2021
Come and join us for our very first AFTERNOON TEA, in support of Sam's Superheroes!!!
It is being hosted by our lovely Blackpool Sam's Superheroes supporters, and will be held on Saturday 6 November, at 5th Blackpool Scout Hut, between 2pm to 4pm. Help us make Sam's FIRST afternoon tea a sell out success! For just £10 you get all of this:
- Sandwiches, drinks and lots of lovely cakes,
- Christmas craft stalls,
- Christmas games,
- Christmas raffle
- Plus, you can learn more about Sam's story
To BOOK a ticket, or for further info, contact us via Facebook messenger on Sam's Superheroes Facebook Page click here, or via our website contact page click here, or email Sam's aunty at: rhisj44@gmail.com.
We have exceptionally close links to Blackpool at Sam's Superheroes. Sam's mummy Rachel, grew up in Blackpool and lived there until 2015; when she moved to Derby, whilst pregnant. Our close family still live there; Sam's auntie's, uncle and cousins, together with his nana and grandpa, and our many close friends. Prior to Covid, we visited Blackpool at least once a month, normally more frequently, so Sam knows it well, and loved his visits!
All money raised will go direct to Sam's Superheroes. A legacy created in memory of Sam, our beautiful and much loved 5 year old boy who tragically died this year. We are so proud that Sam's Superheroes is ALREADY making an impact and a difference to children's lives.